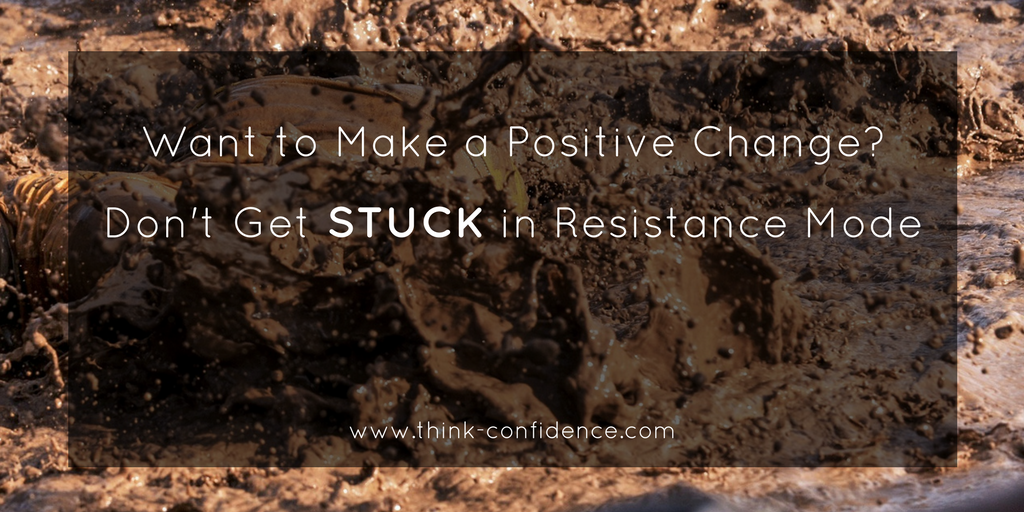 Want to Make a Positive Change in your Life? Don't get Stuck in Resistance Mode
"Progress is impossible without change and those who cannot change their minds cannot change anything" – George Bernard Shaw
Change is never easy. Your mind can be your own worst enemy. Whether it's a New Year's resolution, a positive change of lifestyle, a change at work or anything that's different to what you're used to, your mind will try to fight you. It's an internal battle of thoughts. We all go through the same process but some people find winning the battle harder than others.
What about you? Do you find yourself retreating back into your comfort zone at the first sign of change. If you do, then developing an awareness of the thought process that happens when change is considered will help you. It will prepare you for the 'mind battle' next time you consider making a positive change in your life.
A few months ago I met Grace. Grace felt stuck in a rut – she knew she was missing out on opportunities but she shied away from the commitment of making any kind of positive change.
Grace was struggling with the strength of mind to move through the 'change transition' – the natural process we all go through when we think about change or when it's suggested to us.
There are four stages to the process. When you know them, you'll understand how your mind reacts to the concept of change; you'll then be in a stronger position to act positively when change makes sense for you.
This video explains the 4 steps your mind goes through when you consider change.
Stage 1 – Denial
Grace hated the thought of change because she knew where she stood if she carried on as normal. She'd got used to the 'norm'. She felt more secure keeping the status quo because she didn't have to worry about any unknowns.
In short, Grace was denying the need to change.
She feared that change meant trying something new, something that might not work out as she planned, something that might even fail.
---
Need To Build Your Confidence & Self-Esteem?
Change The Way You Feel & Come Across
---

As we talked, it became clear that Grace needed to change her routine. Her life revolved completely around work and she had no social life to speak of. Not surprisingly, her self-esteem was low and she felt slightly alienated from society.
When I asked her if she had any hobbies, she mentioned she liked photography (in fact she'd studied photography at University). To me, joining a local photography club seemed like a good option for Grace. She could enjoy her hobby and meet new people too.
Her reaction to this suggestion was completely normal. "There's no way I'm doing that!"
She went on to explain that she didn't have time, she didn't enjoy photography that much, she didn't like the idea of having to socialise with strangers…
Basically Grace immediately put up a barrier to the idea and did whatever she could to avoid it happening.
She was in denial. But she couldn't see it.
Stage 2 – Resistance
As we talked more about the idea, a subtle change in her approach to the idea began to show. She started to say things like "I don't think there are any photography clubs around here," "I might have to speak at the meetings," "I'll probably have to pay a membership fee", "they'll all be really good at photography …"
What was happening was that she was moving from denial to resistance. In her mind, she was passively accepting that joining a club was a possibility. She'd moved on from complete denial.
I talked to her about this shift in her mind-set. She had no idea it had happened. She also didn't realise the significance of it. It was an essential step in the change process.
Stage 3 – Exploration
Moving to the resistance stage made it possible for her to accept that exploring the options was worthwhile. We talked about what she could do to get things moving; some internet research on local clubs, membership fees, locations etc.
It was noticeable how our discussion changed from a negative conversation to a more upbeat positive dialogue. Grace was starting to realise and accept that joining a photography club may well make a lot of sense. She'd completed Stage 3 of the Change Transition Process.
Stage 4 – Commitment
Her new positive approach showed results in the form of commitment. About a month later Grace joined a photography club in Milton Keynes. She's never looked back. She attends most Wednesday evening sessions and has made some new friends. She also discovered that she was by far the most qualified person there (no one else had a degree in photography).
So this mental process that Grace went through is true for any type of change you consider. The human mind is always cautious when the concept of change is introduced. If you're aware of the way your mind approaches change, you'll be in a stronger position to fight it if it tries to stop you moving forward.
It's true to say that some people embrace change more readily than others but it's also true to say that everyone goes through this change transition process. Sometimes you just need to reflect on what stage you're at if you feel you're losing momentum. This alone can be the key to keeping moving and arriving at commitment.
Once you've made a commitment to making a positive change in your life try these tips for keeping the momentum going.
---
Have you downloaded The 4 Step Confidence Plan?
How to build your confidence in 4 easy steps
---

Look, feel and be more confident
---
THE 4 STEP CONFIDENCE PLAN – A great place to start. Download our Free 4 Step Confidence Plan.
---
FREE RESOURCES – Just browsing? Check out our Blog and Free Resources.
---
ONE DAY COURSES – Kick start your confidence. Feel and see an immediate difference.
---
ON-LINE CONFIDENCE COURSE – There's no pressure. Learn in your own time at your own pace.

Popular articles
---
10 Things You Can Start Today To Overcome Low Self Esteem
If you're struggling to overcome low self esteem, it's likely you're vulnerable to what you… READ MORE
---

The Ultimate Guide to Being Assertive At Work
Have the confidence to speak up and have influence at work… READ MORE
---

Confidence Body Language: 2 Tricks Everyone Should Know
When someone shows confidence through their body language, we automatically… READ MORE
---

Trouble Remembering Names? Here's a Simple Strategy that Works
If you have trouble remembering names, don't blame your memory. Use this… READ MORE
---
Is Your Communication Style Helping or Hindering You Being Confident?
Discover how to get people to listen to you. Subtle tweaks can make a big difference… READ MORE
---